Posts for: November, 2019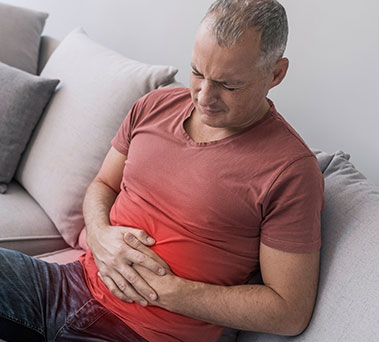 Your stomach is just one big processing plant: Incoming food is broken down into individual nutrients that are then absorbed into the body. The main food "de-constructor" for this process is stomach acid, a powerful fluid comparable in strength to battery acid. All's well as long as it remains in the stomach—but should it escape, it can wreak havoc on other parts of the body, including teeth.
That's the reality for 1 in 5 Americans with gastroesophageal reflux disease (GERD). Also known as acid reflux, GERD occurs when the ring of muscle at the base of the esophagus—which ordinarily keeps stomach acid contained—weakens to allow it into the esophagus. It can then irritate the esophageal lining, giving rise to the burning sensation of indigestion.
The scenario changes, however, if acid continues up into the mouth. This puts tooth enamel at risk for erosion. The resulting high acidity is enough to dissolve the mineral content of enamel, which could jeopardize the survival of affected teeth.
If you've been diagnosed with GERD, your teeth could be in harm's way. In recognition of GERD Awareness Week (November 17-23), here's what you can do to protect them from this potentially damaging disease.
Manage your GERD symptoms. There are effective ways to control GERD and reduce the likelihood of acid in the mouth with antacids or medication. You can also lessen reflux symptoms by quitting smoking and avoiding alcohol, caffeine or acidic foods and beverages. Finishing meals at least three hours before bed or avoiding lying down right after eating can also lessen reflux episodes.
Boost saliva to neutralize acid. Saliva neutralizes acid and helps restore minerals to enamel. You can boost its production by drinking more water, using a saliva-boosting product or chewing xylitol-sweetened gum. You can also decrease mouth acidity by chewing an antacid tablet or rinsing your mouth after eating or after a reflux episode with water mixed with a little baking soda.
Use fluoride oral hygiene products. You can further protect your teeth from acid by using oral hygiene products with fluoride, a chemical compound proven to strengthen enamel. If needed, we can also apply stronger fluoride solutions directly to the teeth or prescribe special mouthrinses with extra fluoride.
If you've been dealing with GERD symptoms, visit us for an exam to check for any adverse dental effects. The sooner we treat GERD-related enamel erosion, the better the outcome for your teeth.
If you would like more information on protecting your dental health from acid reflux, please contact us or schedule a consultation. To learn more, read the Dear Doctor magazine article "GERD and Oral Health."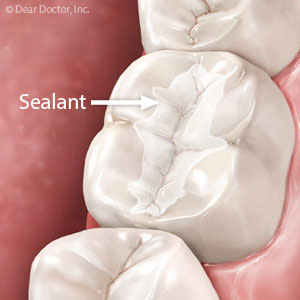 Although adults are more prone to dental disease, children aren't immune from one particular infection, tooth decay. Some children, in fact, are at higher risk for an aggressive form called early childhood caries (ECC).
There are a number of things you can do to help your child avoid this destructive disease, especially daily brushing and flossing to remove bacterial dental plaque, the underlying cause for tooth decay. It's also important for your child to see a dentist regularly for professional dental cleanings and checkups.
But some of their teeth, particularly the back molars, may need some extra attention to fully protect them against decay. This is because larger teeth like molars have numerous pits and crevices along their biting surfaces that can accumulate dental plaque difficult to remove by brushing alone. The added plaque increases the presence of bacteria around the tooth, which increases the risk of decay.
To minimize this possibility, dentists can apply a dental sealant to "smooth out" those pits and crevices in the molars and make it more difficult for plaque to accumulate. This is a quick and painless procedure in which a dentist brushes a liquid plastic resin or similar material onto the teeth's biting surfaces. They then apply a curing light to harden it into a durable coating.
About one-third of children—mostly those considered at higher risk for tooth decay—have undergone sealant treatment. But the American Dental Association and the American Academy of Pediatric Dentistry recommend this preventive measure for all children between ages 5 and 7, and then later between 11 and 14 when additional molars come in. Although there is a moderate cost per tooth for sealant application, it's much less than the potential expense of treating an infected tooth.
Combined with daily oral hygiene and other preventive measures, sealants can reduce the chances of damaging tooth decay. Keeping your child's teeth healthy is an important part in maintaining their dental health today—and tomorrow.
If you would like more information on preventive dental care for children, please contact us or schedule an appointment for a consultation.